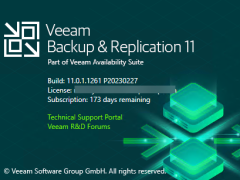 Vulnerability in this Veeam Backup & Replication component allows unauthorized users to obtain encrypted credentials stored in the configuration database. The vulnerability may lead to these unauthorized users gaining access to backup infrastructure hosts. The vulnerable process Veeam.Backup.Service.exe (TCP 9401 by default) allows unauthenticated users to request encrypted credentials.
Veeam released new patches on March 7, which fixed this vulnerability. No Hosts restart is required after installing this patch.
The detailed information is as the link.